This week is a little tough in the sense that I thought I had a pass play to discuss that was really interesting. The problem is that when I went back to look at it, it simply wound up being far less impressive than I thought when I watched it happen the first time. Nonetheless, as I've always told my students, not every case is exciting but they're all interesting. So, here's a play that unfortunately, did not lead to any points but it did show us some of the best of what the Browns can do. In other words, it's time to give y'all some HILLIS!
Situation:
1Q, 5:16 left, Browns have just been pinned inside their 10 yard line.
Score:
0-0
Down:
1st & 10 on the -6 (and you've got Jake Delhomme within the shadow of his own goal post)

1. Presnap and Run Game Tutorial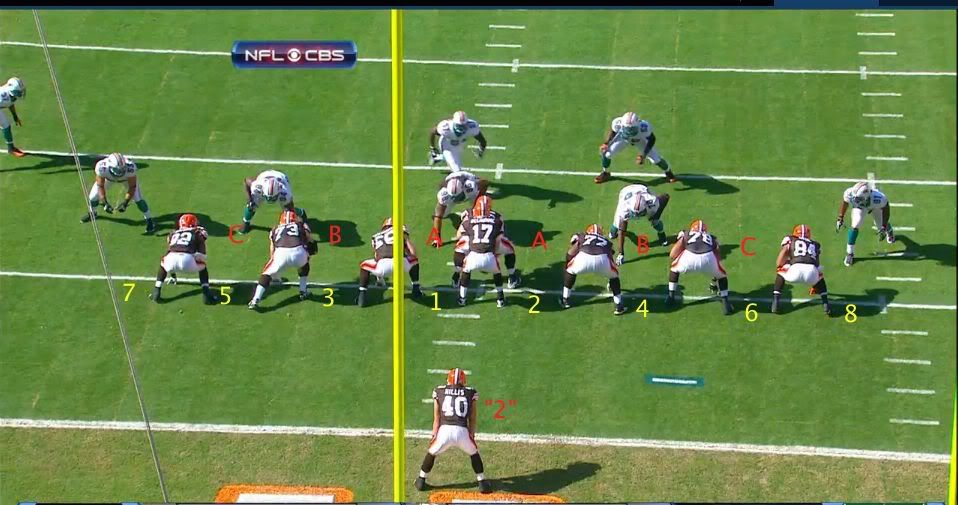 The Browns come out in '12' personnel (1 back, 2 TE) and have Watson to the left and Royal to the right. This is called many things by different offenses but generally speaking you can call this a double tight or "Ace" formation. The two WR are flanked off the line to the right (not on the screen). So, if I'm calling this formation in the huddle, it's "Ace, twins right". The Dolphins are in a 3-4 front and the safety is buzzing down toward Thomas. Their formation is shifted slightly. Against 2 TE formations, the defense has to declare one of them to be the "threat" and clearly they've designated Watson to be that guy.
You'll also notice some letters and numbers. Let's talk about the numbers first. In basic terminology going all the way back to youth football there is a numbering system for the ball carriers. The QB is the "1" back, halfback is the "2" (see Hillis?), FB is usually "3". In some of your backfield heavy sets like the wishbone, there's also a "4". In any case, that back gets the ball and has to go thru a hole. These are designated by numbers. As you can see it starts in the middle and moves its way out. Odd numbers to the left and even to the right. The "3" hole, for example, is between Steinbach and Thomas. So, if you wanted to call a run play off-tackle to Thomas' left, you would call it "25" and then you'd assign a description to tell you what the lead blockers are going to do (e.g., "blast", "power").
Now, let's look at the letters above the numbers. On defense, they have to be able to communicate about the running lanes too but they don't use a numbering system. They use letters to define the gaps. The gap between center and guards are the right and left "A" gaps. The gap between guard and tackle is the "B gap" and between tackle and TE, "C" gap. The gap outside the TE is the "D" gap. This is (to my knowledge) universally how it's called. Now, the different defenses may treat the gaps differently even if they call them the same.
In a 4-3 defense, the players on the line of scrimmage are playing 1-gap defense meaning that they are responsible for one hole only and they're typically trying to penetrate through that gap.
In the 3-4, it's a little different (unless you're Shaun Rogers and do whatever the hell you want when you feel like it and, in the process give up a long gain to Michael Turner). In the Parcells/Belichick/Mangini 3-4 (aka, the "Fairbanks-Bullough 3-4"), the players on the line of scrimmage play a "2-gap" principle where they engage an offensive player and try to control both gaps to either side. For instance,a NT will engage the center and play both A-gaps. This then allows the LBs to fill and make the play. In the "Phillips" variant, it uses smaller linemen than the usual 3-4 and they penetrate along with a LB on every play (more like a 1-gap). It's far more aggressive and it's what you see Wade Phillips run in SD and Dallas. The third 3-4 variant is the "LeBeau Zone Blitz" which is not totally 2 or 1 gap. The NT plays two gap and the DE's tend to drop out and switch with LBs or continue to rush.
The point is that with whatever system you run on defense you have to have what's called
gap integrity
meaning that someone is responsible for each gap. This is why the 3-4 that NE, CLE and the Jets run has had success against guys like Chris Johnson, MJD, etc because a two-gap defense can beat zone blocking from an offensive line (but I digress). Notice that the Dolphins are trying to block eight gaps with seven guys (we won't count the safety because he's so far out of the way). So with that out of the way...
2. The snap
- #1 shows Delhomme reverse or counter-pivoting. This means he takes the snap and turns opposite of where the run play is going. This is misdirection.
- #2 shows Hillis with a hesitation step to the left to allow the counter to develop
- the arrow shows Steinbach pulling to his right. The nose tackle had lined up in the A-gap and that was to try and force Steinbach and Mack to double team him. Obviously, Mack is going to handle this dude alone.
- the left side is straight forward as Watson and Thomas block left.
- Tim Dobbins is the Mike backer and he's looping into the left A-gap. Supposedly, Mack will be pulled left opening this up. Womack does a good enough job blocking down on him. St. Clair blocks down on the DE.
- Robert Royal is blocking Cameron Wake
- the reason this play works is Karlos Dansby. He's either keying on Delhomme's movement or the center and he's sucked inside. My guess is he's supposed to have C-gap responsibility but he's abandoned it.
3. The Hole
- #1 shows an obscured Dobbins who's been blocked out of the way (at least well enough) by Womack. At a minimum, his momentum is going one way and the play is going the other.
- #2 shows two things. First St. Clair is holding big time. Second, and more importantly, Steinbach has pulled around and has an angle on Dansby who's been pulled inside on the counter motion.
- #3 shows Robert Royal who can't catch worth a damn but God bless him he's blocking Cameron Wake. Did I mention he's blocking Cameron Wake?
LOOK AT THAT CANYON THAT'S OPENED UP! You could drive a TRUCK through that! Luckily, we have one and he wears #40.
4. North and South Running
This is just to show Peyton Hillis stay square to the line and cut upfield quickly. Steinbach is having some trouble with Dansby (so what else is new? Does he have a "Li'l Captain" in him?) and there's Robert Royal!
5. The Finish
This is just to show Brian Robiskie. Perhaps it made no difference on this play but neither he nor his defender look like they even WANT to get physical. Note to Brian: Being a Cleveland Brown means you have to block. If you're watching, you AIN'T PLAYIN' FOOTBALL! Watching this play again, he never even touches the defender. Poor Peyton Hillis has three guys hanging on him and you can't be bothered to knock the CB on his ass? Big gains on the ground in the NFL are usually a result of two things: downfield blocking and lack of gap integrity. On this play we see the former.
SUMMARY: On this play, we see a nice counter that resulted in a big play. The combination of counter-action, some adequate but not great (except for Royal!) blocking, a mistake by a LB and good ol' #40 makes this play a success. "Ace, Twins right, 26 counter"
Hope this wasn't too boring.