I started off this week thinking that I'd let things settle down and I'd offer up a play to you guys that involved our running game or a pass play to show that perhaps Jake wasn't all bad. Sorry friends, this is the play that's on all of our minds and it's the play that almost cost us the game. I can't stop thinking about it. You can't stop thinking about it. Here it is....Situation: 4Q, 0:41 left
Score: Browns 24, Panthers 23
Down: 3rd and 10, -16
1. Presnap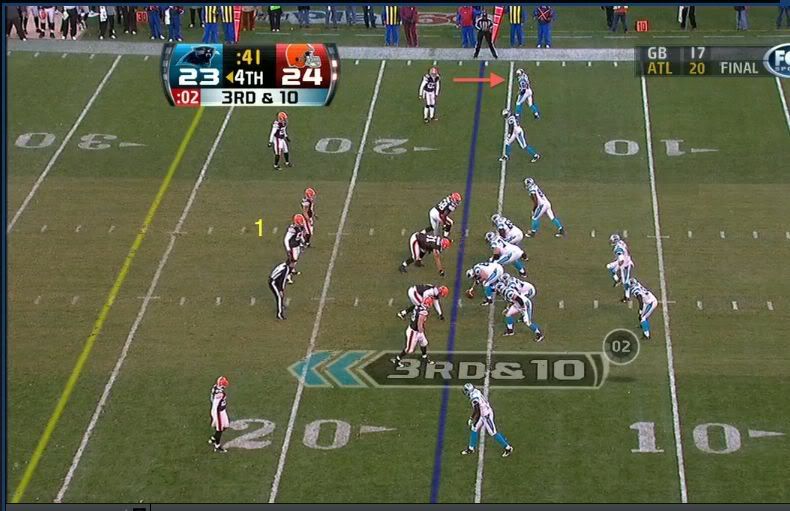 The Browns come out with 2 down linemen, 3 LBs and 6 DBs, Schaefering and Robinson are down linemen. Roth is strongside, Benard is weakside. The coverage shown is 2-man (2 deep safeties, man under). A couple of things worth noting:
-Arrow shows Joe Haden on Steve Smith. Obviously the Browns had contained Smith all day and he's a threat. The impressive thing is that Haden is up tight on him when everyone else is off-and-soft. I think that tells you a lot about how much they trust Joe Haden to not give up something deep, otherwise, he'd be 5-10 yards off of the receiver.
-#1 shows Gocong and Ventrone. They're in man coverage. Gocong has Goodson and Ventrone has Rosario (TE). Ventrone is playing inside leverage meaning that he's lined up with his outside shoulder inside of his man. This is probably less important in the Gocong-Goodson matchup considering how far off Gocong is from his man but the point is that this isn't strictly a "prevent" style of play. In prevent, you cover the boundaries and you trade yards for time. Obviously you don't want to give up big yards but if you tackle (ahem) then the clock runs and they don't have timeouts. By playing inside leverage on these two receivers, the Browns are willing to give up short yardage to the boundary on third and long.
2. Dropback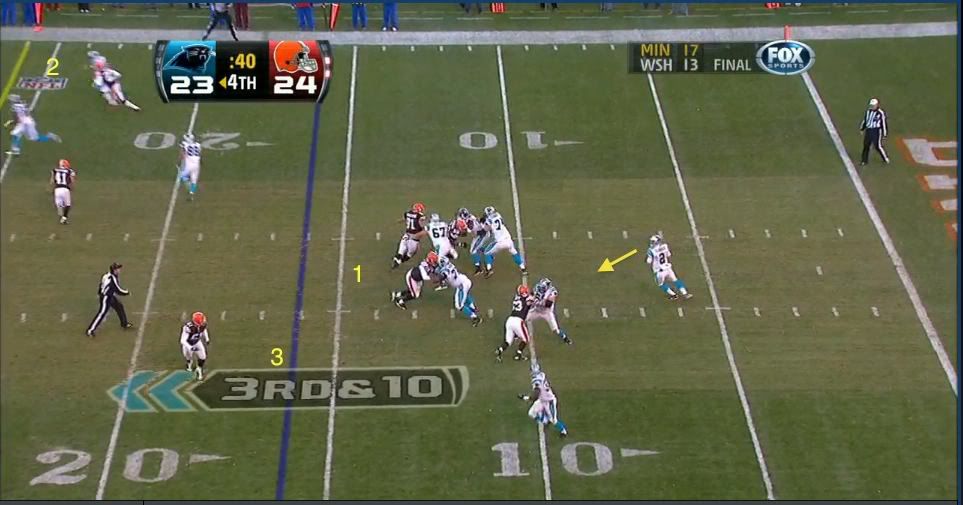 #1 shows the pass rush. Schaefering is stunting and looping around Benard (this is to try and generate pass rush). Good ol' Matt Roth is pushing Jordan Gross back into Clausen's face. This is key. I'm not showing the sequence immediately after this but as Goodson releases, Clausen has ample time and space to throw but he waits too long and Roth gets him backpedaling to the inside.
#2 (top of screen) Smith has a step on Joe Haden. You would think that throwing this direction would be advisable to get a DPI but anyway, it's Clausen and he hasn't seen the field all day so why should now be any different?
#3 Gocong sees Goodson release and is reading Clausen. There's nothing really wrong here yet but for some reason Gocong closes to the inside as if he's anticipating the throw and trying to go for a pick. That's not good. He's against a MUCH faster player in Goodson and he should be happy to just watch Goodson and keep him in front of him. What bad can happen if you give up a five yard check down but you're in GOOD position? (I know....)
3. Gocong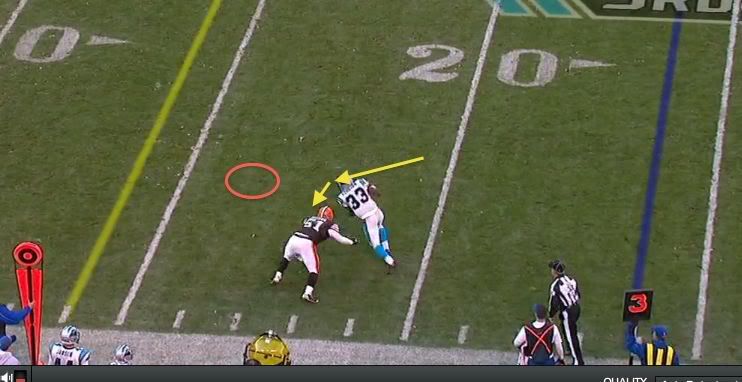 The arrows here demonstrate the path that Gocong took to recover from overcommitting. In a panic he gets completely turned around. His momentum is to ZERO. He is totally off-balance. He's not only given up the advantage of pinning Goodson to the sideline...he's actually now given him the upfield move too. The oval demonstrates where Gocong would have been had he played this conservatively. As Goodson stretches to get the ball...you close against the sideline. It's then fourth down and more time has run off. If the clock stops, they're still 45 yards away from a decent FG shot. I suppose I could stop here because this is where it broke down (but I won't). When Goodson gets loose...the other players have gone downfield in coverage so there is a huge gap of open field.
4. Oh ****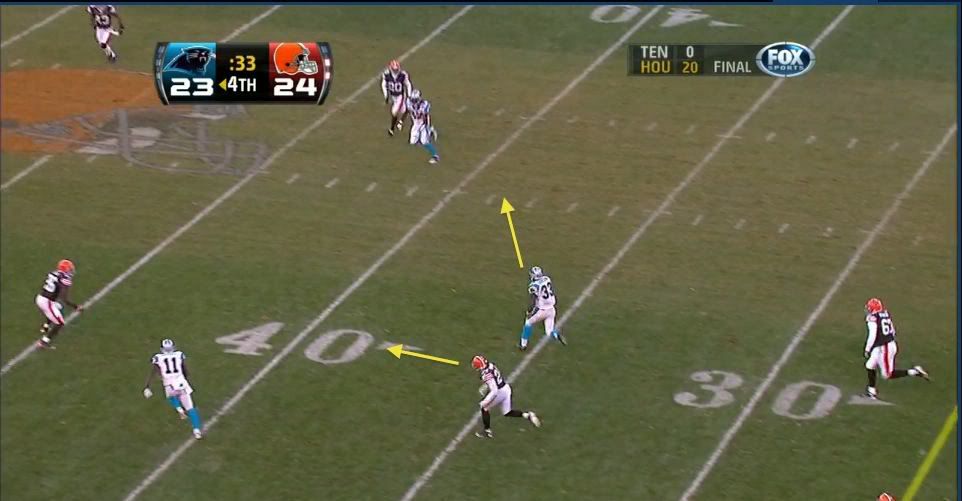 Look kids! Mike Goodson! The Aggie is LOOSE! Sheldon Brown is trailing the play and I'm not sure why he's headed up field when the man with the ball is running across it. I suppose he's trying to prevent a cut back a la MJD last week but it seems a bit odd that Brown wouldn't try to save the yardage (assuming he could catch him).

5. Haden
I hate to pick on Joe because he is probably our best tackling CB right now but this is just inexcusable. Even more inexcusable is Ventrone. He's leaning away from the play and quite honestly, as I've always told my kids in football "If you're watching, you're not playing!". Ventrone may be a special teams ace but there are a handful of plays in the last two weeks that show you why he ISN'T a good DB in the NFL. Ray ultimately makes the tackle on this play so I guess he can get a point for that.

6. Adams
Here we see Mike Adams who, having witnessed the Keystone Koppery that has just transpired, decides he's not going to go for the tackle but rather he's going to try and strip Goodson. I will point out that he's still on the -45 and a good tackle here still keeps them in their half. Mike Adams will make enough plays over time to convince you that he's a valuable guy for depth but this wasn't the time to try and make one of
those
types of plays. Extra points to Joe Haden though for having gotten up off the ground and continued chase. Notice that he got up off the ground and closed on Goodson again and Ventrone still trails.

Doing it Properly
You will notice that neither of these teams are the Browns. This is a play from the St. Louis-Denver game. Knowshon Moreno has just received a screen. #1 shows you four blockers who are all in good position to clear out yardage for him. Second year CB Bradley Fletcher comes up and makes what I think was the best tackle I saw all weekend. He ran through the traffic aggressively and squared up to Moreno. He keeps his head up and drives right through him before he's even had a chance to start accelerating upfield. Remember how Gocong was not squared up?
The other part of this tackle that makes it so successful is something that we didn't see with the Browns aside from Joe Haden's tackle on Jonathan Stewart. He (Haden) came up to the line on a sweep quickly. He was in a good breakdown position (athletic stance, back straight, hands and head up with knees bent) and he DIDN'T give Stewart a two-way go (the option to cut inside or outside). When you close that quickly you basically force the ball carrier to commit to a direction. If you're lucky, you'll get Jerome Harrison who'll actually stop.
Summary:
This play will probably haunt me for a long time because it's an awful lot like the MJD play from the week before. The pressure on Clausen was good considering there were four rushers. We saw a stunt that you don't see the Browns use too often. The breakdown was in Gocong overcommitting and then we saw extremely poor tackling once it was a "free for all". What kills you is that you know that you've seen each of those would-be tacklers make good tackles in other situations and why it eluded them here is concerning. Kudos to Bradley Fletcher for making a great tackle which is what we should have been doing.