At the end of last week's game, I wanted to puke. Now most of you may think that by clicking on this topic that you'd see something to do with the offensive coordinator, Brian Daboll, and his play-calling. Nothing could be further from the truth. This thread is not about him. It's about the real reason we lost this game...the crappiest offensive line performance that I've seen this season with perhaps the exception of the Bears line that gave up 10 sacks to the Giants in New York. Let's have a look at 10 plays (there were more, but I stopped at 10 so that some of you wouldn't run out of Pepto-Bismol).
First Quarter
2nd-2 on -28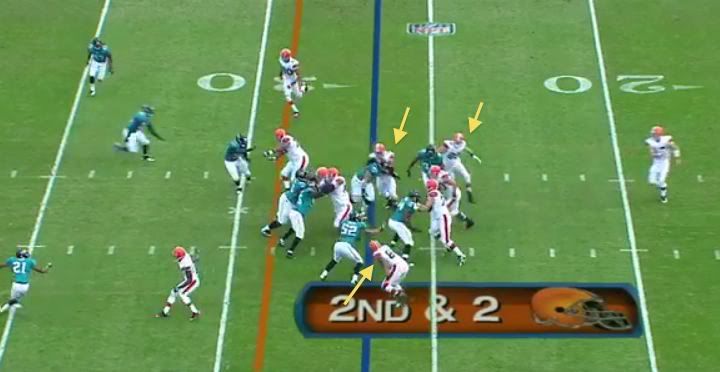 On this play, the Browns faced a 7-man front. Starting from the top right arrow, we see Evan Moore get beat by Derrick Harvey, the DE. The biggest reason this play blew up though is at the arrow to the left where Shaun Lauvao not only gives up the A-gap to the DT Alualu but also basically gives a running start for a free hit on Hillis. Robert Royal please feel free to get out of your effin-stance and block someone.

2nd-7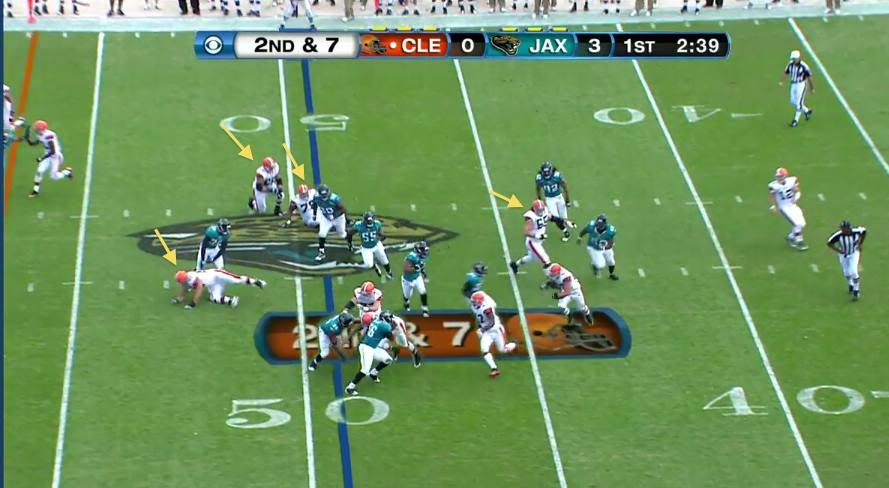 This is a toss left and we'll notice the TE, Joe Thomas and Vickers all heading out to lead the charge. The problem is (notice the arrows) we have THREE EFFIN LINEMEN on the EFFIN GROUND! St. Clair?! Feel free to pull up a lawn chair! STEINBACH?! Thanks for being ABUSED by your man who blows it up in the backfield. Hillis then stiff arms two guys while more arrive to force him out. Hillis gained a yard all by himself. You basically have five guys with no one blocking. They're playing football and we're EFFIN WATCHING!

2nd Quarter
1st-10 +30
Thomas gives up the gap to his inside (the B-gap, if you're wondering). Mack COMPLETELY whiffs the DT to his left whom he was supposed to block since Steinbach pulled on a G-power. St. Clair gets stood up and....
St. Clair? Well, "Turnstyle" gets tossed aside like he's a rag doll!
3rd Quarter2nd-7 +45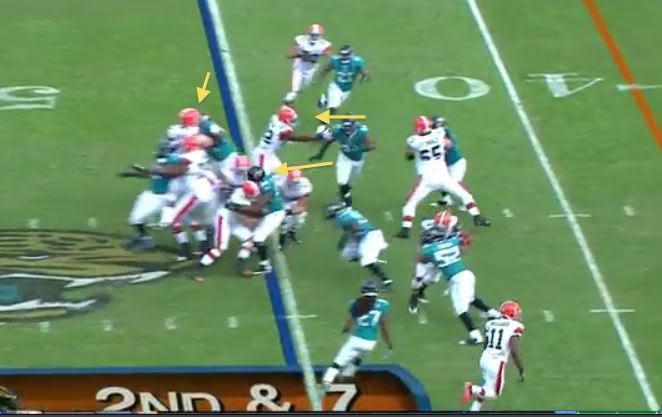 This photo doesn't do the ineptitude justice. This is a 7-man defensive front. On this play, Joe Thomas gets stood up and driven back. Ben Watson doesn't engage a block quick enough to keep his man from flowing to the ball. and the duo of Lauvao and St. Clair could not block the guy who slid inside to out across both of their bodies to meet Hillis head on at the LOS.
1st-10 +19 (after turnover)
Yes, folks, that's the DT who just blew past Alex Mack into the backfield to blow up our first play after a turnover. This was six in the box and went for no gain.
2nd-10 +20
This is a 22 personnel (2 backs, 2 TE) against a 7-man front.
1-- Morrison stunts around the end (and right past Joe Thomas and Watson)
2-- Mack is about to miss another block down on the left DT.
3-- St. Clair blocks, well, no one...
This is the same play but a split second later where we see (clockwise from 3 o'clock)...Mack looking like a fool, St. Clair STILL looking for someone to block and Kirk Morrison finishing his loop around to stick his shoulder pads right into Hillis' gut to blow up yet another play.
4th Quarter
1st -10 -43
This is a first down pass and Colt gets sacked on a weak blitz pick up by Hillis (arrow). McCoy is not yet set to throw in this photo which reinforces the idea that this was not a coverage sack.
1st-10 +35 after a turnover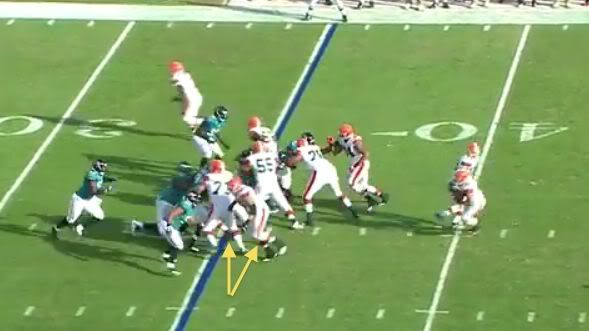 On this play, there were 7 in the box. Lauvao is pulling to the left and whiffs on his man. Now, to be fair, I've watched this play over and over and it seems to me that Thomas helps out Steinbach leaving two unblocked men for the pulling guard. This might be Thomas' fault. I don't know but it sure looked damn ugly.
I ran out of room for images so the last two will have to be on the next comment...