This is the play requested before by Zombo. When you look at this play, it's important for a couple of reasons. First, it obviously ended our hopes of winning. Second, the basic structure of this play on offense and defense is something every fan should understand.
Situation:
4th quarter, 0:13 left. Evan Moore has just gone out of bounds at the 28 yard line after a gain of 22. Browns are losing 24-20.
Down:
1st & 10; +28

1. Presnap
Here we see the Browns come out in 12 personnel (1 back, 2 TE). The formation is 2x2. I think that Evan Moore is at the top of your screen, Watson is the right slot/wing, MoMass is the split end to the left and Stuckey is in the left slot. The Jags come out in what looks like 3-2 dime. The defense looks like they're bringing three and playing back.
-#1 shows 2-deep safeties. 15 yards off of the line of scrimmage, they're probably playing deep zones.
- The ovals represent man-to-man relationships.
2. Protection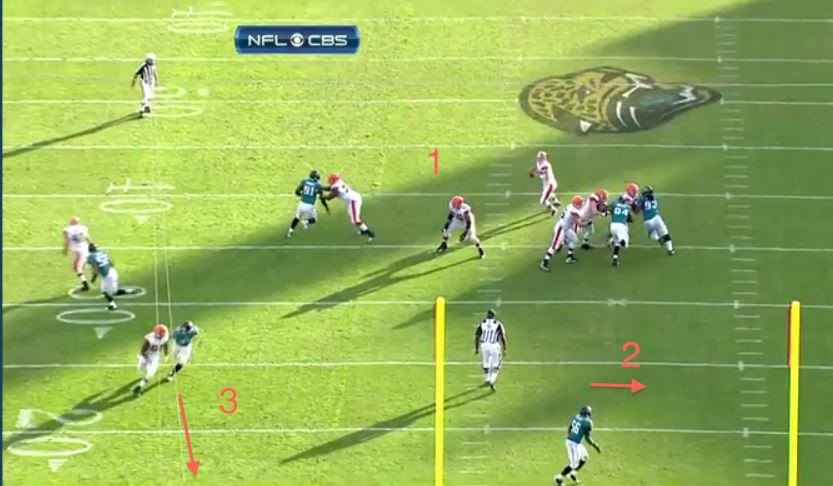 -#1 shows excellent protection. I would offer that Jacksonville is only bringing three but as piss-poor as this unit looked all day...take nothing for granted. Shaun Lauvao has no one to block.
-#2 shows the middle linebacker who's dropped into the deep middle (more on this in a minute). He's moving away from Watson but this ISN'T because Colt is looking him off.
-#3 shows Watson beating his man toward a skinny post (8-route). This was
probably
the most open receiver (more in a second).
3. The setup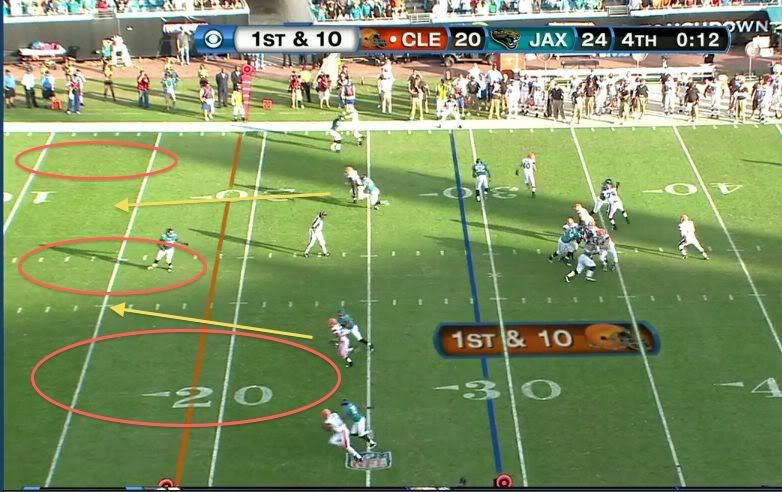 Here we see McCoy reach the top of his drop. Notice the middle linebacker has dropped into the deep middle. This is 3-deep, man under (deep field is divided in thirds between 2 safeties and the linebacker and everyone else is man-to-man). I am going to explain to you why this is a well-designed play. The reason that this is a well-designed and executed play to this point has to do with passing concepts called "stretch" and "pressure". We all hear about "stretching the field" and while most people understand that if your receivers are fast they will give defenses trouble vertically (i.e. up and down the field from goal to goal). That is
vertically
stretching the defense. What most people don't know (or at least acknowledge) is that there is also
horizontal
stretch. Stretch opens holes in the zones across the field. Pressure is important because that is what happens to the deep defenders. In this photo we see that there are three deep zones (the safeties are off the screen). Notice Stuckey and Watson are running up the seams. The arrows not only represent those seams but they also represent the pressure on the deep defenders. They are stretching the underneath vertically with speed (you can also stretch with routes on multiple levels) and the deep guys horizontally. The linebacker (as we noted above) is pressured and is pulled over by the horizontal pressure towards Stuckey thus opening a window for Watson.
Hillis (in the flat) and Moore are tightly covered. The LB is doubling Stuckey at this point and MoMass is running toward a deep safety. Watson is PROBABLY the most open receiver.

4. The Window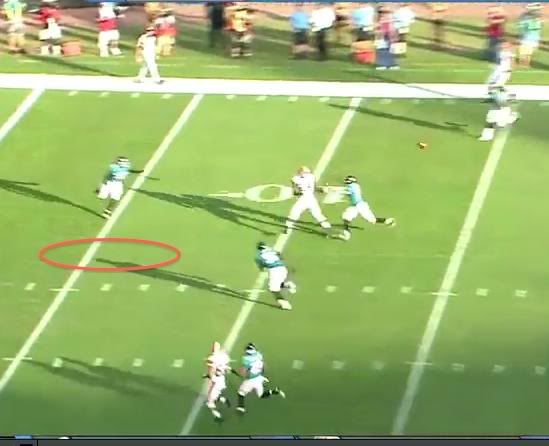 You see here that the LB has done a reversal and is trailing. Even though there are two defenders, Colt does have a window to fit the ball into. It's tight...but the oval is roughly where they should go.
5. The Adjustment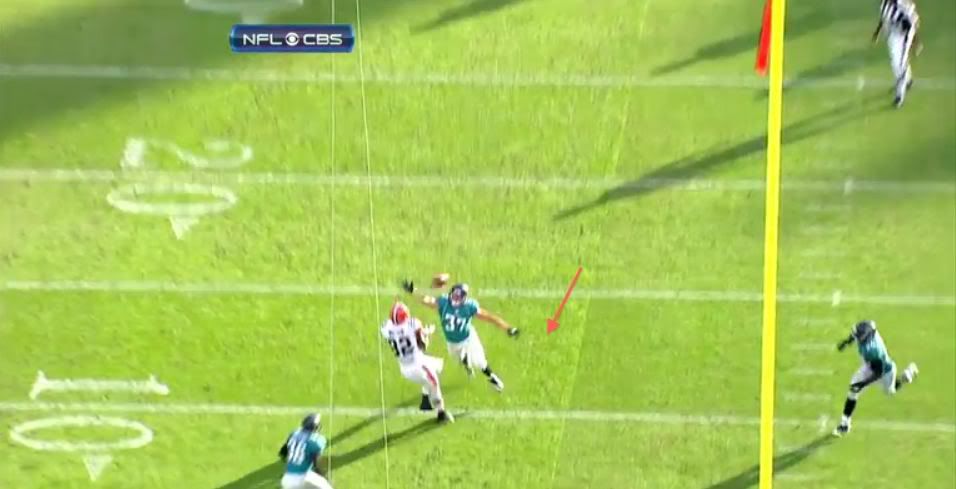 Here's where the execution breaks down. For as tight of a window as the QB has to throw the ball into, it's impressive that Colt could fit it in there. I have been thinking for a while trying to grade this throw and the best description I can come up with is that it was "a good throw...but not good enough because he needed a great throw". Watson was really the only one with a play on the ball and it was impressive that he could get it in there. The problem is that through sheer luck, it deflects right up to Considine. The arrow represents where Watson expected the ball to be and you can see that he had to turn back for the ball. You could debate whether Watson had it in his hands but I think this is all a moot point. There's five seconds on the clock and if he catches this ball...the clock runs out. PERHAPS... A perfect throw that hits him in stride...he makes it into the end zone...but I doubt it. It makes you think back to the zero yard play to Stuckey at the 50 which bled 15 seconds off of the clock.
I'm going to work on something else for you guys about why we "really" lost this game....but this is a great X's and O's play to talk about.