I started looking back at this play after another poster claimed that Colt underthrew Cribbs "by a mile". This isn't meant to be antagonistic. Once I started watching this play again, I noticed some stuff that I liked. Being one to love learning X's and O's, I figured I would share. If anyone can add to the discussion please feel free. Below are some stills of various points in this play.
Score
: Browns 3- Saints 0
Situation
: 7 minutes left 1st Q. Peyton Hillis just ran for 6 yards off of right tackle.
Down
: 1st and 10 on +42.
1. Pre-snap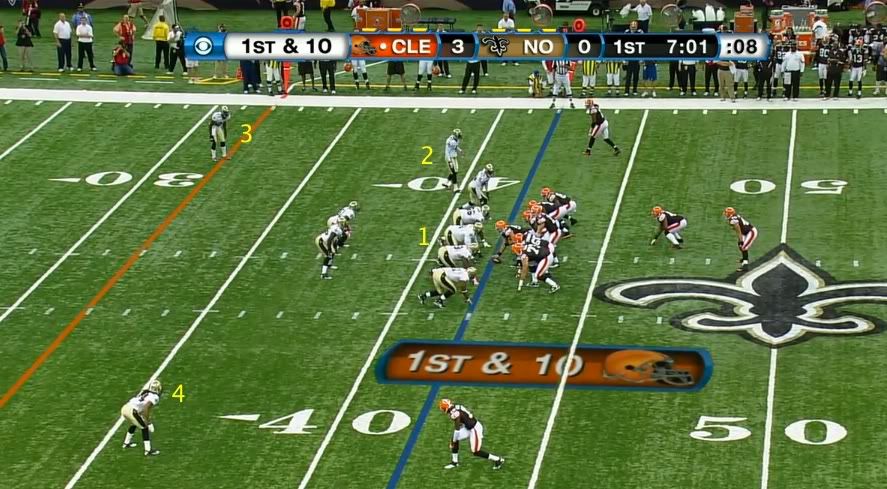 This is the presnap read. The Browns are in a power I strong right formation.
#1 shows an overshifted seven man front geared towards a strong-side run.
#2 shows the safety as the 8th man in the box. He's buzzed to stop the run but notice he's split outside of the 9-technique Sam backer. He's also eyeing Cribbs. This coupled with the depth of the corner are making me think he's bailing to the short zone in the flat.
#3 is ten yards off the ball and is either in man-to-man with high-low bracket with the safety (#2) or dropping to cover the deep half or third.
#4 is showing zone coverage off of Mitchell and has deep safety help to his side (that safety is off the screen to the left)
2. Drop back
Colt drops into a seven step drop which is telling me his first thought is an intermediate to deep ball. Vickers releases to the flat and Hillis stays in to block. Watson releases over the middle.
#1 shows the Mike dropping deep; TAMPA 2 ! (that's the MLB dropping to cover the deep third with two DBs covering the outside thirds. This leaves four men in zones underneath. Vulnerabilities are the seams and the 7-route (corner/flag)
#2 safety and Sam (who was on the line) drop into zones. Even if the Sam had blitzed, Hillis was there to pick him up.
#3 shows four linemen rushing with six blockers. Thomas is 1-on-1 and seems like he might be getting beat on the speed rush with a dip. The others are in various doubling situations but the protection is 'so far so good'
3. Keeping Colt upright
Joe Thomas gets paid lots of dough to keep the QB upright and even though it seems like he might be beaten, he does what any good left tackle will do (not hold...)...he uses the rusher's momentum to take him past Colt's set up point. Good recovery Joe! Also notice Steinbach about to get dropped on his keister. Colt is in good balance. Shoulders are square and has the ball in good position. Eyes are downfield.
4. The Release
Just to show Colt's release on this throw. His weight is slightly back and he doesn't step into the throw as much as you'd like. Not terrible and it's a little nitpicky. I would chalk it up to Steinbach's man who is bearing down on him. He releases the ball on the 50.
5. The Underthrow (sorry,...couldn't resist)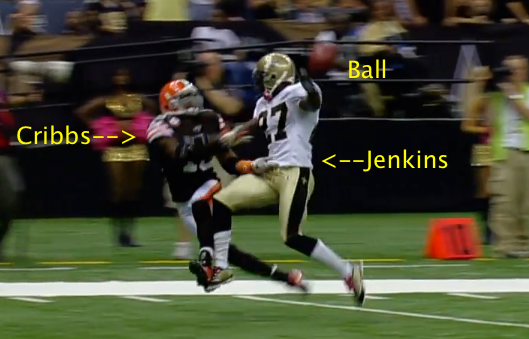 While the ball may be underthrown a tad, we don't know if he was trying to make it a back shoulder throw to induce interference or it was just underthrown. He threw it 48-49 yards in the air and put it within arms' reach of Cribbs hitting Jenkins in the helmet.

Analysis (my own)
- I think that the first challenge on this play was for Colt to read the coverage properly. Gregg Williams was doing what good coordinators do. He was not showing the coverage too early and presnap, the kid might've been confused. This play was Colt's to make. Vickers was a dump off (covered), Watson was covered as well. Mitchell at split end was probably covered but we don't see that on TV. Cribbs was the play and the kid made the right decision. He had enough time to deliver the ball even though the protection was difficult against only four rushers. He placed a reasonably nice ball accurately. It was certainly a better deep ball 50 yards downfield than Quinn ever threw.
Just an attempt at talking football. I hope you guys liked it. (It also gave me an excuse to use some neat screen capture and photo editing stuff on my computer!)